Imagine being inside an E. coli bacterium, smaller than a speck of dust and surrounded by genetic material, molecules and proteins.
This could soon be commonplace for some microbiology students thanks to work by University of Toronto researchers who are investigating virtual reality design features that can support or impede learning.
"As a graduate of the master of science in biomedical communications program many years ago, and as a former professional medical illustrator thereafter, visualizing scientific processes and making thinking visible have been at the cornerstone of my thinking when it comes to designing technology for learning," says Michelle Lui, a post-doctoral researcher at U of T Mississauga's Institute of Communication, Culture, Information and Technology who is working with Associate Professor Rhonda McEwen.
"I was drawn to immersive technologies as a medium for learning abstract scientific concepts in part because you can engage the learner on a number of different levels. Vision, touch, kinesthetics, and other aspects of our multisensory systems … We can design multiple representations as well as full-body interactions."
As VR technology matures and becomes more widely available, interest for its use in educational settings is growing rapidly. But how to best design immersive VR applications to support conceptual understanding remains an unanswered question. One complicating factor is that the term "virtual reality" can refer to a broad range of technologies – from three-dimensional virtual worlds accessed from desktop computers to 360-degree videos viewed though a smartphone, or even a low-cost VR viewer, like Google Cardboard. At the other end of the spectrum, meanwhile, are high-end head-mounted display systems that allow users to walk around within small, trackable spaces and interact with their surrounding environment via handheld controllers.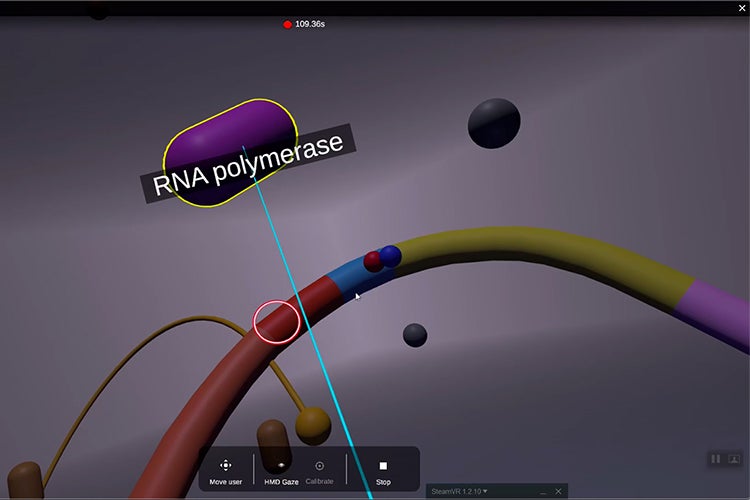 Researchers created a simulation that allows students to observe and interact with the gene regulation process (Image courtesy of Faculty of Information)
"Our project focuses on this last category of VR," says Lui. "We've partnered with a second-year microbiology course instructor at Carleton University, Martha Mullally, who noticed her students having difficulties understanding gene regulation, or how genes are turned on and off."
Such courses, Lui says, are foundational and are key to understanding more complex cells, like animal cells, in upper-year microbiology courses. Hence, it's critical for students to "get it right" at this level – a situation that could potentially be addressed with VR.
"[However,] what previous studies have shown is that VR can be cognitively draining," says Lui. "So, we're diving deeper into the experience itself to investigate this issue, and using our findings to address how to design VR experiences for learning."
The team created a simulation that allows students to observe and interact with the gene regulation process. Some of the students taking the course last spring volunteered to participate in the study while their physiological signals like heart rate, respiration, and skin conductance were recorded.
"We can identify which aspects of the simulation are associated with indicators of cognitive overload," Lui says, adding that the study suggested additional sensory stimulation from VR might be negatively affecting the learning experience in some students.
Factors that impacted students in the VR learning environment included gross motor changes (sitting versus standing and freely moving around), and the amount of information in the visual space.
One takeaway from the study is that educational designers should be encouraged to create adaptive experiences. For example, students with less knowledge in a subject area may need a VR learning environment that is less stimulating than students who possess more knowledge. They should also ideally be sitting down.
From the students' perspective, most spoke positively about their VR experience.
"Afterwards, I can still see it," one student said. "Even in the assignment [on gene regulation], I could sort of see it."